Rothschild Street's Coolers
The Classic – LEGGENDA
Over the years, ice cream has become synonymous with the perfect summer cooler, and when it comes to high-quality ice cream, well, you don't have to ask us twice. At Leggenda ice cream shop (they prefer gelato, suggesting a richer flavor than regular ice cream) you will find a variety of top-notch dairy ice-cream, prepared daily. Vegan ice cream and sorbet, dairy, soy or goat milk froyo are also available in Leggenda. The flavors here are almost unlimited and almost everyone can find something that will help him or her cool down in this weather.
45 Rothschild Blvd. 03-6048332
Can't decide between ice cream and froyo? You should try both
Upgrading – COOKEEZ
COOKEEZ's slogan is simple: 2 cookies with ice cream between them. However, this ice cream parlor is a lot more than a synonym for an ice cream sandwich. When you go there you will have to select a cookie out of 15 kinds, all freshly baked, after that it comes to deciding on a type of ice cream, and with COOKEEZ's selection it is not an easy task. We are not done yet! It's time add either the chocolate or caramel sauce. After that you receive a dessert that is ridiculously photogenic, if you can wait before you eat it…Apart from the flagship ice cream sandwich, COOKEEZ also serves a bowl of Cookeez (ice cream served in a small bowl made of cookies), chocolate coated treats (krembo) and Cookeez Shake. Yummy!
114 Allenby Street, 03-5663833
Our recommendation: Unicorn Cookeez Shake
Natural – Tamara
If you're into natural flavors, Tamara offers freshly squeezed fruit and vegetable juices as well as froyo with delicious toppings. However, our recommendation is to try their natural ice pops. Tamara's ice pops are made of fresh fruit and vegetables, prepared by hand and are amongst are favorites during the summer in Tel Aviv.
19 Rothschild Blvd. 03-5175777
Super flavor, zero guilt
The Authentic – Hamalabiya
Rothschild Allenby Market introduces several treasures, one of them is Hamalabiya. A Malabi stall with affordable prices, only ILS10 for a Malabi. Hamalabiya serves dairy or vegan Malabi with a selection of toppings and sauces. The selection is not grand, but the Malabi itself does not need it, it's simple and delicious. Simply delicious. So, if you'd like a refresher with the scent of roses, rose water to be exact, you arrived at the right place!
Rothschild Blvd. 36, 03-7797786
The smile says it all.

Alcohol – BEER BOX
Another jam is waiting for you at Allenby Rothschild Market, the Beer Box stall. This beer hub offers more than 200 types of Israeli and international beers for affordable prices. You can sit and sip a cold beer or take a stylish 6-pack with you, with beers of your choosing.
Rothschild Blvd. 36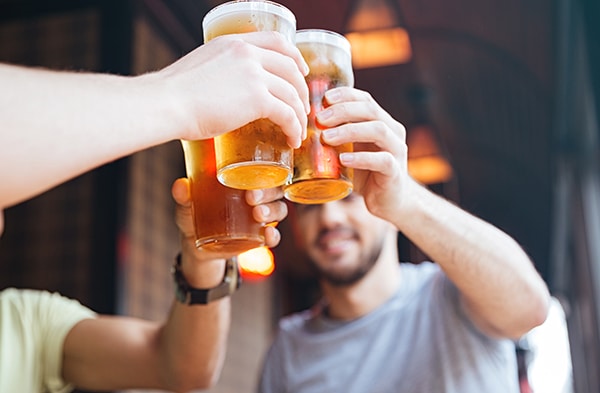 For some it is the ultimate summer treat
More posts that may interest you:
Hotel Rothschild 22, a Tel Aviv boutique hotel part of the Fattal Hotel chain